We have clients that wish to setup their own website.  In order to this you need to change a set of 8 files.  For the purposes of this example, I will reference the demo site system that can be found here http://demo.ezcapper.com/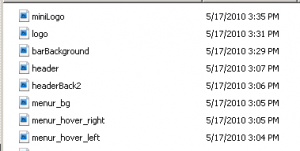 The header.jpg file is 900×165 pixels and this is the main banner on the home page.
The header consists of two files wit the second file being headerBack2.jpg (900×46 pixels).  This file is a tricky file as it connects the header to the menu system.  More….
The second set of files comes as (notice they are all .gif files)
menu_hover_right.gif (250×46)
menu_hover_left.gif (19×46)
menu_bg.gif (2×46)
These files make up the hover menus when you put your mouse over the main menu ( "Home", "Register", "Access Plans", etc. ).
The next set of files:
logo.jpg (330×95)
miniLogo.jpg (140×80)
are referenced at the following pages:
The last image barBackground.jpg (5×22) is the color bar reference used in the "Member Login" background.
Please note the following:
The 3 files in the hover menu set can be designed as a solid color or a semi-transparent image by making some adjustments.
The images must be in EXACTLY the same pixel size and format (jpg or gif) in order for us to bring it to the system.
The header set of 2 files must align exactly particularly when using an image.
Access your admin settings and adjust the other colors in the "Edit Website Info / Settings" button.
Below I've attached the list of files for reference for the demo site.  Click on the files twice to download.
Leave a Reply