Archive for December, 2012
1 week in with our telemarketing program and the results have been impressive indeed.  The capper has generated far more money promoting the high end packages than he made promoting his regular packages by a long shot.   Here are the key findings:
A purchaser of a small package has a high probability of paying for a far paying package.  As long as the customer paid the first time this qualifies the customer significantly

Email marketing is all it really requires.  The capper is only doing email marketing.
Promoting a syndicate play giving the impression that the picks come from an insider is very effective.
Phone upsell marketing is absolutely necessary to sell at a higher price point.
See Previous Post  https://blog.ezcapper.com/case-study-success-3-weeks-in-results-of-telemarketing-upsell-program/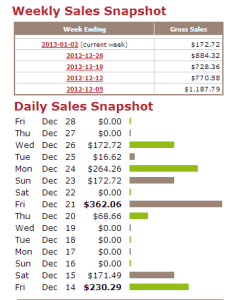 In less than 3 weeks the total proceeds generated has been over $6000 in sales.  Everything is working well and we've attached the screenshot of the portion of the revenues.
So far the site owner has only done the following activities to generate this revenue:
Sent out emails

Allowed us to add a premium pricing page to his site
Put our phone number in the members area so picks are obtained directly from our sales team.
Just these simple strategies has allowed the site owner to generate substantial revenue with little to no effort.
If you wish to get involved contact us today.