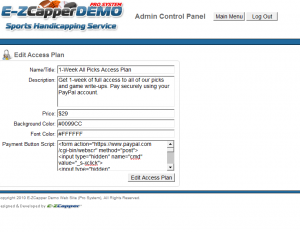 A lot of questions from Paypal novices on this topic.
Watch this video http://www.youtube.com/watch?v=u-xHhgMncxk and make your Paypal buttons according to your desired access plan.  Copy and save the "code" for the buttons.
Login to your control panel and find the "Manage Access Plans" section.  Click "Add New Access Plan" and specify the information for your access plan including Name, Price, Colors etc.  Copy and paste the code you obtained in step 1, into the box "Payment Button Script". (See image on this post)
Click the "Edit Access Plan" button to save.
Your button should show on your Access Plans page.
For sample references of how our other clients setup their access plans visit our client page here and click on Access Plans to see how they have set it up.
Leave a Reply