Ever wonder what the best method of doing SEO is? NO it is not hiring somebody from India at $1000 per month to setup metatags and perform other outdated activities that no longer are effective.   Most SEO experts will sell you on a number of activities that are totally useless and not effective.
For the best bang for the buck we believe in building effective and relevant links from other sites.  The best place to do this is on article directory sites.  Take a look at one of our articles that we recently submitted:
http://www.goarticles.com/cgi-bin/showa.cgi?C=2973307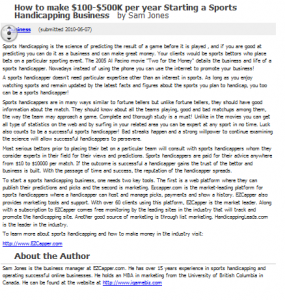 If you are interested in having EZCapper work on your SEO we can have one of our team submit an article for you to 25 of the top directories on the net.  We can also write the article with keywords that will help you get long term results.  Contact us today for more details.
Leave a Reply